Doosan Infracore Partners with Sharjah's German Gulf Enterprises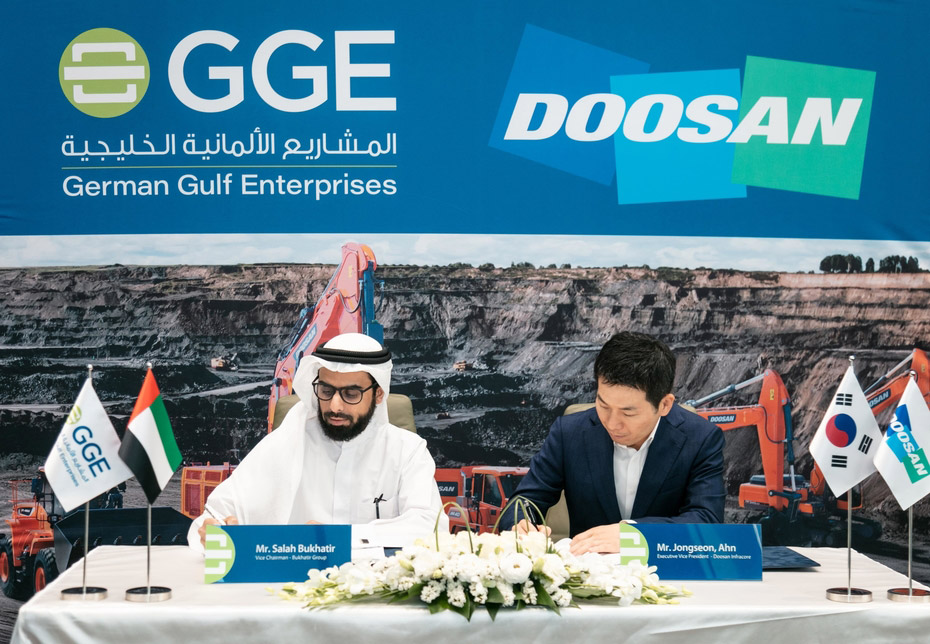 South Korea-headquartered construction machinery manufacturing company Doosan Infracore has appointed Sharjah-based German Gulf Enterprises (GGE) as an authorized distributer in the United Arab Emirates.

As part of the deal, GGE will be the official dealers for Doosan Infracore's heavy equipment in UAE, which will include managing the sales, parts, and service support for Doosan's excavators, wheel loaders, and articulated dump trucks in the nation.

The strategic distribution agreement was signed by Salah Bukhatir, chief executive officer and vice chairman of Bukhatir group, and Jongseon Ahn, executive vice president of Doosan Infracore. The deal was finalized in the presence of the management of the Heavy Business Group of Doosan Infracore. Also present at the ceremony were Ayman Ahmed, group COO of Bukhatir Group; Ahmad Swaid, construction equipment divisional manager at GGE; Faten Mohamed, business unit manager – ITS at GGE; Ibrahim Emira, after-sales manager at GGE; and R. Prabhu, divisional manager – Finance and HR at GGE.

The agreement was inked at the corporate office of Bukhatir Group in the City Gate Tower, Sharjah. Doosan Infracore appointed GGE as its dealer following a thorough process that saw it recognizing GGE's extended experience and presence in UAE market, and after taking into consideration, GGE's investments in infrastructure across the UAE.

Commenting on the agreement, Salah Bukhatir said: "Bukhatir Group is proud to be associated with Doosan Heavy Industries & Construction and bring their 123 years' expertise in the field of heavy equipment to the Middle East."

"Having in-house R&D infrastructure, design teams, and numerous patents gives Doosan several core strengths that our rapidly expanding client base in the Middle East can look forward to capitalizing on."

Jongseon Ahn, who also inked the agreement, said: "Doosan is at the top position in GCC countries. We will further enhance our presence with customized products, special application machines and attachments."

Doosan expects to quickly expand its market presence under the reputation and capability of GGE.

"Doosan Infracore will cooperate with GGE to provide maximum support to enhance the brand image and ensure customer satisfaction," said Ahn.

Ayman Ahmed, chief operating officer of Bukhatir Group, said: "This new partnership will definitely be of great advantage to the construction and heavy industries in the Middle East."

"Doosan has a very respected reputation globally, for their unparalleled quality standards in their processes, products and services. Convenience and safety are outstanding benefits offered by Doosan, apart from competitive pricing and low maintenance costs. We look forward to ensuring the satisfaction of our growing clientele in the Middle East with this partnership."

Fadi Obaid, sales and product manager of Heavy Business Group at Doosan Infracore, said: "Doosan's products boast the highest levels of quality and performance without compromise on convenience and safety. Our services are easily accessible to our customers."

"Doosan's engines provide excellent fuel efficiency and lower maintenance costs than those of all its competitors. Doosan also offers competitively priced parts that permit for low maintenance costs. The parts used in Doosan machines are all designed in-house to ensure maximum performance and quality. This is why Doosan is a world leader in technical expertise and patents."

Fadi added: "The UAE market has been looking for a supplier and brand offering higher return on investment. Customers in this market will finally have what they have been looking for with Doosan's return to the UAE market by partnering with a very strong and well-established dealer like GGE."

Doosan can greatly benefit from the 45 years of in-depth experience that GGE has in this industry, apart from capitalizing on GGE's exceptionally loyal and exponentially growing customer base, as averred by Ahmad Swaid.

"Our three completely equipped and fully functional branches in Sharjah, Dubai, and Abu Dhabi will comprehensively cater to the requirements of Doosan customers, giving them the best value for money and the highest level of professionalism in after-sales service, thereby ensuring maximum up-time for their equipment," he added.