German Gulf Enterprises Expands Rental Offering With Doosan Excavators And Wheel Loaders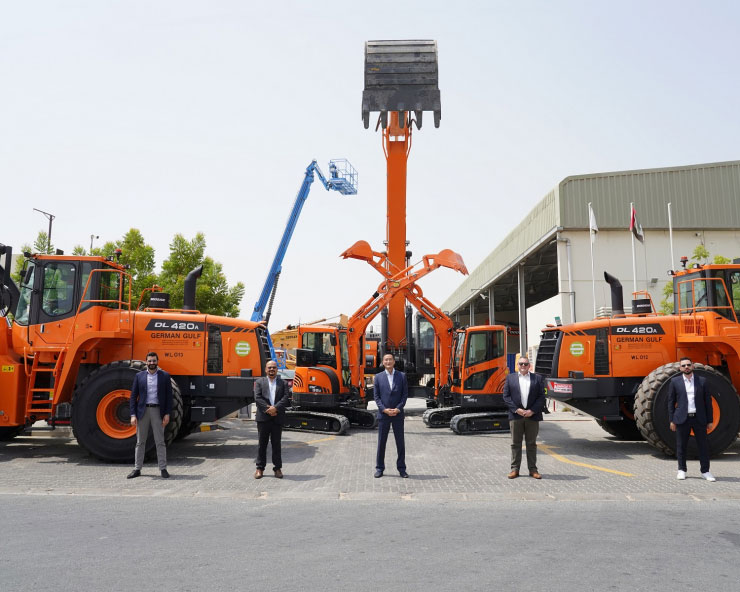 German Gulf Enterprises (GGE) has been expanding its rental offering in 2020 to include excavators, wheel loaders, concrete and mortar pumps, aerial work platforms and lighting towers. The most recent investment by GGE's rental division was the addition of nine Doosan machines -- two DL420A wheel loaders, three DL140W wheeled excavators, two DX420LCA tracked excavators and two DX35Z compact excavators -- increasing the company's fleet size to more than 120 units. GGE's rental division operates from a dedicated, purpose-built facility in Sharjah's Saja'a Industrial Area.
Equipment rental is a natural progression for GGE's growth as a supplier of heavy equipment and engineering service provider. Last year, GGE was appointed as the authorised distributor of Doosan Infracore's heavy equipment in UAE, to manage the sales, parts, and service support for Doosan's excavators, wheel loaders, and articulated dump trucks.
Mark Johnson, general manager, German Gulf Enterprises, says the market development strategy for Doosan in the UAE includes both purchase and rental options from GGE.
"As we have all experienced over the past few months, the availability of funding for capital purchases has been extremely limited. This makes rental the most suitable alternative as it provides access to the best equipment and brands as off-balance-sheet items. GGE's rental operations provide construction equipment and attachments for numerous applications, along with highly skilled operators and 24/7 support to ensure the maximum productivity and flexibility. GGE also offers various flexible financial solutions for the acquisition of new Doosan machines, including lease-to-own, trade-backs and attractive long-term rental packages with or without operators," says Johnson.
Debjit Battacharya, divisional manager–rental & used equipment, German-Gulf Enterprises, adds: "Construction companies in the UAE are considering rental options to avoid the capital cost and hassles of maintenance. Studies show that the benefits of machine rental for construction outweigh that of purchases due to the increased flexibility and economic feasibility of renting. Furthermore, the reliability and durability of Doosan machines makes GGE's rental offering even more attractive to the UAE construction sector."
Ahmad Swaid, divisional manager-construction equipment, German-Gulf Enterprises, says: "'GGE's strength lies in businesses diversity, and our rental division is one of the most important vertical we have for our company and for our customers alike as we offer a wide range of machines, experienced staff and our 24/7 operation support. The recent acquisition of Doosan enhances the durability, rigidity, and most importantly, high ROI of our rental fleet compared to the available alternatives in the market. As most businesses look for new ways to cut their costs and improve overall profitability, we offer attractive prices and 'launch year' promotions on our equipment range.''
Doosan Infracore, which manufactures equipment ranging from medium and large excavators to wheel loaders, articulated dump trucks and compact construction equipment, is expanding its global business network as a 'total solutions provider' with ICT-integrated smart equipment and solutions and by strengthening customer service programmes.
Hoan Min Hur, regional manager, Doosan Infracore Middle East & Africa, says: "Based on a solid value-added business partnership with GGE and cooperation with their rental operations, we are confident that we can maximize our customer value and satisfaction by providing reliable products, parts and services in the UAE."
Johnson indicates that despite the unknown long-term effects of the COVID-19 crisis, GGE projects growth throughout 2020 and 2021.
"We see several new and exciting expansion opportunities that can build on our strong existing businesses in construction equipment, hydraulics, welding & cutting, industrial supplies, workshop services and rental."
Source: www.pmvmiddleeast.com