How German Gulf Enterprises stays ahead of customer needs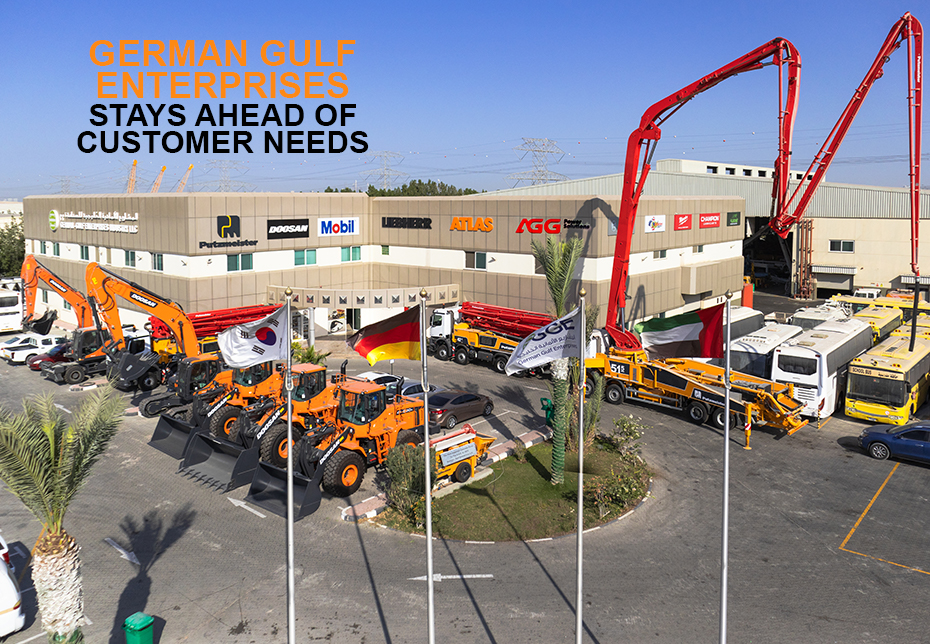 Local dealers continue to bear the brunt of the pandemic as markets remain depressed with the recurring problems of tight liquidity and price competition. Profit margins on capital goods are becoming thinner, and while the fall in capital expenditures has increased demand for rental equipment, the average rental rates for heavy equipment have been falling due to intense competition. As customers become risk averse and make investment decisions based on short-term objectives, their priorities are shifting in favour of the purchase price and availability of financing as opposed to the total cost of ownership. They are often willing to consider low-price products and are looking internally to find ways to reduce their operating costs. These factors have made it difficult to estimate demand and forecast sales.
Situations like these separate the best from the rest. Only the top dealers that have successfully navigated economic cycles in the past can take a long-term view on the market, and German Gulf Enterprises (GGE) is one such market leader. Having been a major player in the UAE heavy equipment industry for nearly 50 years, GGE has evolved into a dealership and rental business representing global brands such as Putzmeister, Doosan, Liebherr, Atlas, Skyboom, Bonluck, AGG and Sullivan- Palatek in the UAE. Gearing up for its next stage of growth, GGE plans to expand both its retail and rental business divisions for construction equipment in the UAE.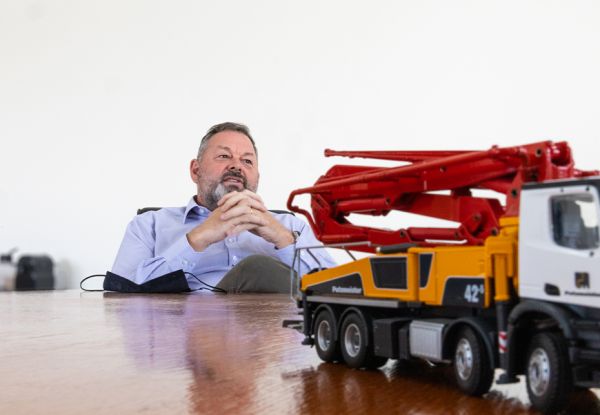 Mark Johnson, general manager of German Gulf Enterprises, sees 2021 as a recovery year based on a resurgence in demand for new and rental equipment since the first quarter.
"Expansion and contraction periods are part of every economy. We would rather focus on the positive indicators of recovery. Activity in the cement and concrete industries is picking up and we are receiving an increasing number of enquiries for heavy equipment, which are strong indicators of construction activity. The number of new concrete batching plants commissioned in the UAE have increased this year, after a slowdown last year. Furthermore, customers seem to be more confident in investing in machines this year, and a higher proportion of them are able to secure bank financing for their machines, unlike last year when it was difficult. So, it's safe to say we're on the path to gradual recovery," says Mark.
GGE's strategy in response to the growing competition is to increase awareness among customers that the purchase price is only one of the several factors that affect total cost of ownership and by emphasizing the importance of product quality, uptime, reliability and productivity while making investment decisions.
"We realise that customers are increasingly likely to opt for the lowest quote they receive. This is not necessarily detrimental to our business; instead, the emergence of low-price products has pushed us harder to emphasize on the quality, performance and residual value of our machines, enabling our sales team to offer more convincing arguments in favour of our offering when the discussion is about total cost of ownership. We continue to improve our value proposition with cost-effective solutions that include timely equipment replacement and upgrades along with superior after-sales services," says Mark.
Recently, GGE refurbished its workshop in Abu Dhabi and its warehouse in Dubai which houses its parts distribution centre. To forecast demand better and replenish stock, GGE is integrating the Syncron inventory management software in conjunction with Putzmeister and planning to introduce an ecommerce platform for ordering spare parts.
"We estimate demand as accurately as possible by spending more time with customers to understand their changing requirements while also investing in the best inventory management systems. This helps us stay ahead of their needs and ensure we have equipment and parts in stock, especially taking into account the disruptions to the global supply chain," he adds.
Supply chain competency has helped GGE fulfil orders throughout the pandemic. Through effective inventory management, GGE has managed to deliver Putzmeister concrete pumps from stock despite factory lead times stretching up to six months, compared to the usual lead time of 3–4 months. During this period, Putzmeister truck mounted concrete pumps with vertical reach of 42m and 56m were sold to Gulf Concrete, CK Beton Ready Mix, and Al Hamra Readymix.
"We fulfil orders with the build slots that we have reserved with Putzmeister throughout the year. Concrete pumps, particularly, have a long lifecycle, and customers tend to operate them longer, which increases their maintenance costs while affecting the productivity and reliability of the machines. To minimise operating costs, several customers are planning to upgrade their fleet, and based on the enquires we're receiving, there's higher demand this year for Putzmeister's 42m and 51m concrete pumps," says Mark.
Putzmeister is GGE's oldest partner and flagship offering in the UAE. By offering the full range of Putzmeister products and spare parts in the UAE through both sales and rental channels, GGE enjoyed a market share of 40–50% in mobile concrete pumps until the pandemic. Last year, the company achieved over 30% market share considering that the total number of pumps sold in the UAE was only 27 units.
"Despite the pandemic, we maintained our leading position in the sale of mobile concrete pumps. Although Asian brands got a small share of the pie, European brands continue to have the highest loyalty in the UAE. This year, we estimate the market for concrete pumps in the UAE to be around 30 units, among which we expect a share of 30–35%. We expect to bounce back to 40–50% with full market recovery," says Mark.
GGE has also started customer trials of the Putzmeister Machine Cockpit and Ergonic 3.0 control system to enable remote control, management of concrete equipment.
"Telematics is a growth market for the heavy equipment industry. We have the opportunity to offer remote monitoring and diagnosis of equipment as value-added services and monetise them in the future," says Mark.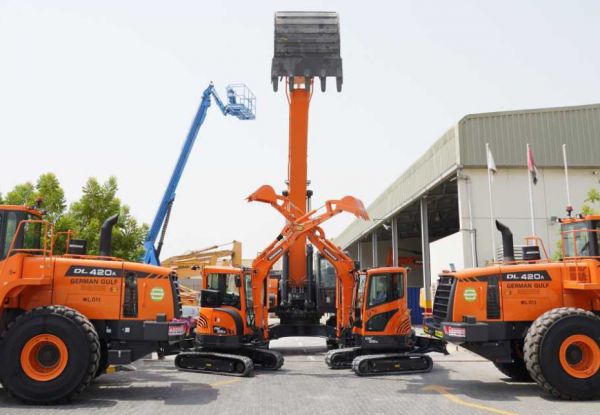 It has been over a year since GGE partnered with Doosan Infracore to offer Doosan excavators and wheel loaders in the UAE. Since last year, GGE has incorporated a considerable number of Doosan equipment into its rental fleet.
"The customer perception of Doosan in the UAE has always been strong, and Doosan deserves to be among the top three construction equipment brands in the UAE. Our partnership with Doosan Infracore has helped build more confidence about after-sales services. Having Doosan equipment in our rental fleet has boosted visibility for the brand as well as our rental income. We are equally focused on retail sales, and it is promising to see sales of Doosan equipment gaining traction since the beginning of this year. This gives us the confidence we'll be able capture at least 5% market share for Doosan this year," says Mark.
GGE's recent partnership with Sullivan- Palatek will enable the company to offer air compressors specifically designed for oil and gas applications. GGE has incorporated Sullivan-Palatek to both its sales and rental businesses.
"We've identified certain market segments that could benefit from these new products. Especially with power equipment rental, we do not want to compete with other rental companies that are also our customers. Our primary objective is to satisfy demand from our existing rental customer base," says Mark.
As of July 2021, GGE's rental fleet comprises 150 equipment including excavators, wheel loaders, concrete and mortar pumps, aerial work platforms and lighting towers. The company plans to increase its fleet size by 30–40% this year with the addition of construction and power equipment.
"Our recent partnerships with Doosan and Sullivan-Palatek are examples of how we intend to expand in the UAE with a combination of both sales and rental channels. We seek complementary products that can add value to our offering. There's scope for new brands that can offer better product quality and support, provided they are offered through reputable local partners. The benefit of running a dealership and rental business is that we have the flexibility to cater to every customer requirement with new, used or rental equipment. From the customer's perspective, having the choice of purchase or rent is an advantage depending on their project duration and scope and how they want to manage their CAPEX and OPEX. Either way, we will deliver high-quality equipment backed by solid after-sales support," says Mark.
Source: www.pmvmiddleeast.com