Sullivan-Palatek Appoints German Gulf Enterprises As Authorised Distributor In The UAE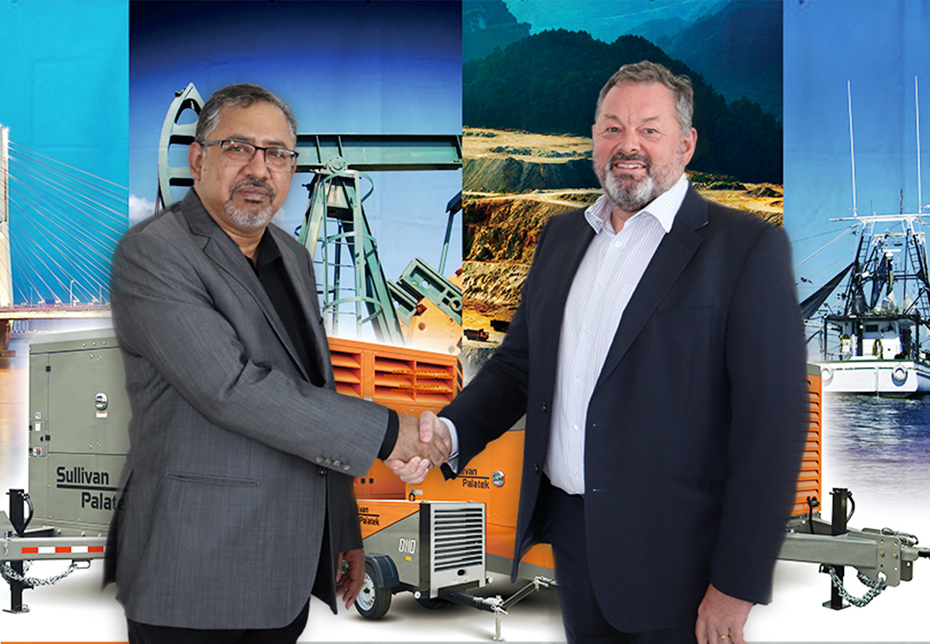 Sullivan-Palatek Asia, manufacturer of portable diesel and industrial electric rotary screw air compressors and accessories, has appointed German Gulf Enterprises (GGE) as its authorised distributor in the UAE.
Rajesh George, regional director, Sullivan-Palatek, comments: "We are delighted to partner with German Gulf Enterprises which meets all our expectations with regard to having a strong corporate leadership, local market expertise, excellent after-sales service and a highly-motivated rental business division in the UAE.
Mark Johnson, general manager, German Gulf Enterprises, says: "The exclusive partnership with Sullivan-Palatek is part of GGE's growth strategy. We've identified compressed air equipment as one of the product groups that can complement our current offering in the UAE. Having established our market leadership in the construction sector, we see significant opportunities in the oil & gas sector, particularly in Abu Dhabi. Sullivan-Palatek which has a proven track record of providing specific, and often unique, compressors for oil & gas applications, will enable us to penetrate this sector with comprehensive portable power solutions."
German Gulf Enterprises will focus on selling to rental and contracting companies as well as offer Sullivan-Palatek compressors for hire, directly.
"Rental companies will also be one of our primary targets segments, bearing in mind the current market preference for rental over outright purchase. We will also add a number of portable compressors into our own rental fleet to meet the demand of our existing clients, which are predominantly contracting companies within the construction and utilities sectors," says Mark.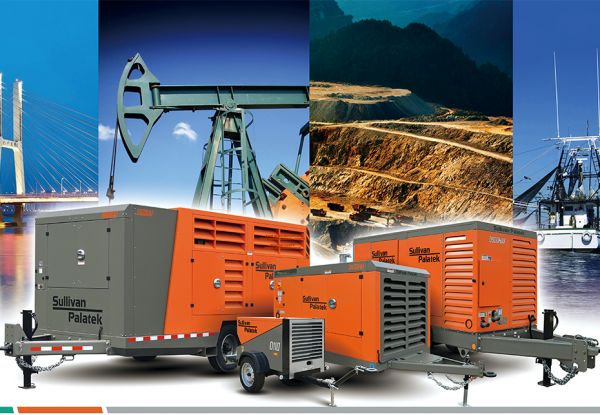 Sullivan-Palatek offers a full line of portable diesel and industrial electric air compressors for export markets. For the Middle East in particular, Sullivan-Palatek compressors are customised with oversized coolers and air ends to provide more efficiency and reliability in harsh environments.
"As the industry grows more competitive, Sullivan-Palatek continues to stay true to its ability to build packages and provide air power that meet customer needs. Sullivan-Palatek offers the best warranty terms for their machines. All warranty offered are for unlimited hours which shows our confidence in the quality of our products. The ease of maintenance and heavy-duty construction along with the lowest shutdown rates and reasonable cost for machine and parts make Sullivan-Palatek the most preferred air compressors for rental companies," says Rajesh.
Rajesh provides an overview of Sullivan-Palatek's range of compressors and their features that will be most attractive to customers in the Middle East.
"Sullivan-Palatek has redesigned its entire line of portable air compressors and continue to introduce versatile and efficient products in response to our customers' growing needs for reliable power. The portable range consists of models from 185 to 1800 cfm, 100 to 610 psi. All models are offered in offshore packages as well. A large number of oil rigs working in the Middle East have had Sullivan Palatek portable and electric air compressors installed for many years, says Rajesh.
At its core of Sullivan-Palatek's 185- 400cfm portable compressor models is a two-stage twin screw air end, engineered and manufactured by Sullivan-Palatek, which gives longer life to the machine and saves fuel by 30%. The interstage cooling is best suited for high ambient temperatures.
"Combining the fuel savings of two-stage technology with longer air end life expectancy, the savings become quite significant over time! Other features include a full containment frame, remote drains, and large steel fuel tanks. The compressors are also equipped with a full instrument panel, ranging from fuel level gauges to engine water temperature gauges, as standard features," says Rajesh.
The Sullivan-Palatek DR900PHCU wagon portable series is highly versatile for your construction, blasting, drilling, and mining projects.
"This series not only provides more air when compared to our competition, but also is engineered with large twin screw air ends for high efficiency and carry an exclusive 3-year air end warranty. The enclosure itself is made with sound deadening material that ensures quiet operation and provides extra protection while working in the toughest environments," says Rajesh.
The largest portable compressors from Sullivan-Palatek belong to the D1600-D1800 portable series.
"This redesigned range is bigger and better than ever, producing 1700 at 150 and 1800 at 100 and 125 psi. The full line is built with a full containment base and large service doors for ease of maintenance. We also have the widest range of high pressure models starting from 630cfm to 1600cfm and from 20 to 42 bar," says Rajesh.
Source: www.pmvmiddleeast.com