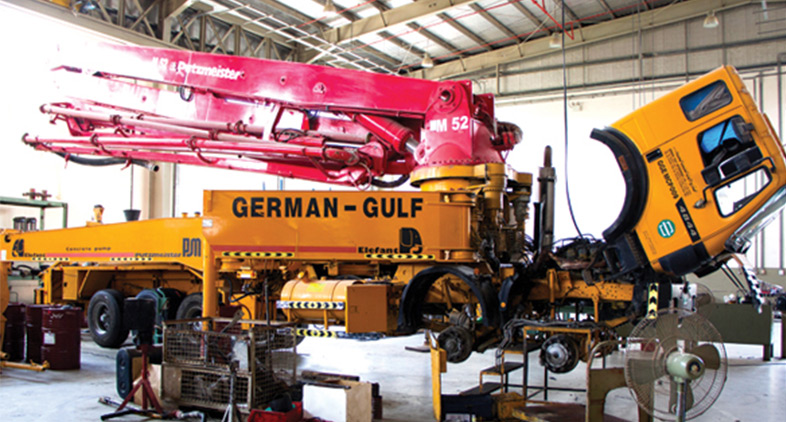 Concrete Pump | Mortar Machines & Repairs
The key to any relationship is trust and support. German-Gulf Enterprises Ltd and Putzmeister have been strategic partners for more than 4 decades in order to serve the construction industry of the United Arab Emirates along with the MENA region. At German Gulf Enterprises Ltd we provide world class repairs, rebuilds and repainting of all brands of concrete pumps. German-Gulf Enterprises Ltd. excels at both, the supplying of best product and offering customers with excellent, dedicated and routine maintenance and service. We are a one-stop solution center for your complete equipment repair and refurbishment.
Various Service competency for different Brands & Makes of Concrete Equipment :
Overhauling & Refurbishing of Equipment.
Rebuilding and Renovation of Hydraulics Systems
Structural Repair & Repainting of equipment.
Consulting service for pumping of concrete for various applications & placing locations.
Complete Concrete pump Delivery system(Core pump) Rebuild & Repair.
Installation & Repair of Central Lubrication systems of various brands
Complete Eorgonic control panel troublshooing.
BOOM INSPECTION
Only German-Gulf Enterprises Ltd provides complete visual inspection of all structural areas including:
Booms (all sections)
Pedestal (tower)
Outriggers
Main column and turret
The machine, placing boom and delivery line are inspected by German-Gulf experts engineers for our customers to operating safety in accordance with the followingintervals, depending on the number of years since they we were commissioned.
0 to 5 years inclusive: annually
500 operating hours or 20,000_m3 pump output
5 to 10years inclusive: every six monthsM
More than 10 years: quarterly