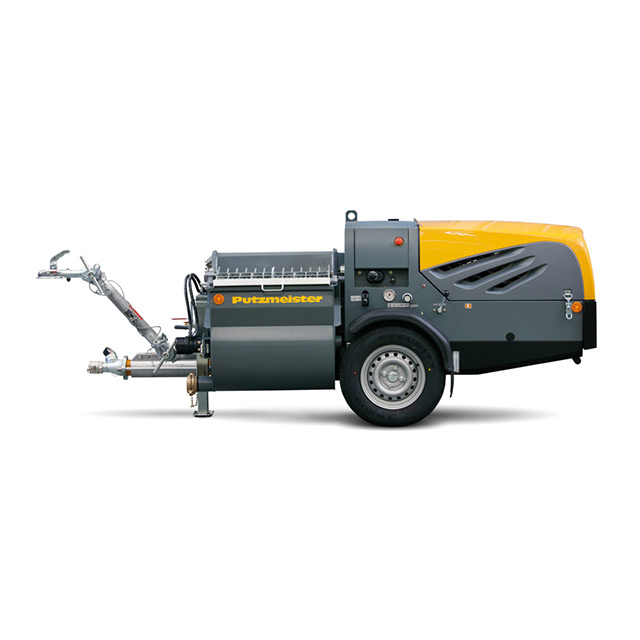 Worm Pump Diesel-SP11LMR
The Putzmeister SP11 LMR is a diesel powered worm pump, a compact, lightweight worm pump specially designed to achieve outstanding performance, simple operation and easy servicing. CES Hire has Putzmeister SP11 LMR machines available to hire and sell.
Product
Overview
The SP11 LMR is suitable for use with site-mixes or pre-mixed interior and external plasters supplied in bags, one coat renders, fire-proofing mortar, base coat plaster, lightweight masonry mortar, ornamental plaster, and filling/grouting and most other pumpable materials with grain sizes up to 6mm. Suitable for both thick and free flowing mixes, the Putzmeister SP11 LMR is adjustable to max. 60 l/min. The machine can pump distances of 120 m or up to heights of 60 m.
Features and
optional components.
Horizontal pumping distance: 120m
Vertical pumping distance: 60m
Technical Information
Version: Hydraulic Lifting mixer
Pump type: 2L6
Delivery pressure: 25 bar
Delivery rate: (5-60 l/min)
Compressor 2-cylinder compressor, 14.13 ft³/min (400 l/min), 102 psi (7 bar)
Mixer Hopper Capacity: 180L
Conveyor Hopper Capacity: 220L
Maximum aggregate size: 6mm